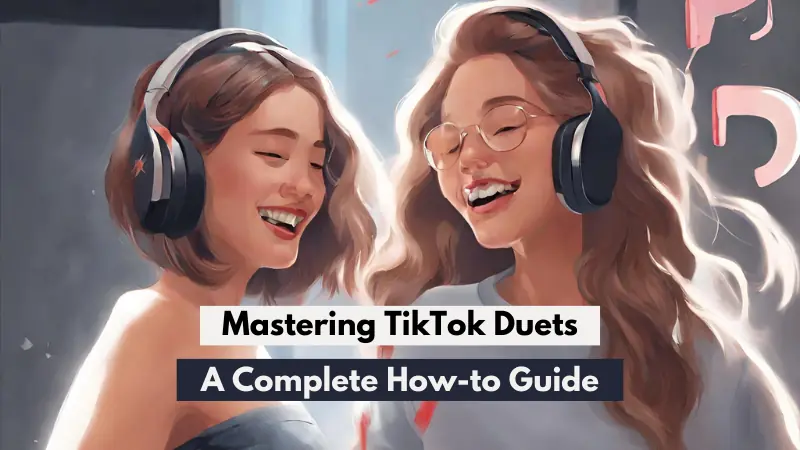 Unveil the magic of TikTok Duets and boost your online engagement. The seasoned team at smm.ist brings their vast experience to deliver detailed insights and tips on this intriguing feature.
In this blog, we will learn about:
What are TikTok Duets?
Steps to create a TikTok Duet.
Ways to make your TikTok Duets stand out.
Innovative uses of TikTok Duets.
Importance of mastering TikTok Duets.
What are TikTok Duets?
A TikTok Duet is a feature that allows users to record a video alongside another video, leading to a split-screen layout that shows both clips simultaneously. This opens a world of collaborative and creative possibilities.
Steps to Create a TikTok Duet
Launch the TikTok app and determine the video you want to Duet with.
Tap the "Share" button and select "Duet."
Now you'll see a split-screen with the original video on one side and the camera view for your video on the other. Record your part of the Duet.
Once done, you can add filters, text, stickers, or music to your Duet, much like any TikTok video.
Tap "Post" when you're satisfied with your Duet.
Ways to Make Your TikTok Duets Stand Out
Duets offer endless potential for creativity. Consider using the following tips to make yours unique:
Play with Roles: You can react, respond, mimic, or even have a conversation with the original video.
Use Creative Angles and Effects: TikTok offers numerous filters and effects. Use them to enhance your Duet.
Add Text: Provide additional context or create a narrative using the text feature.
Innovative Uses of TikTok Duets
Duets aren't just about fun; they can serve practical purposes too:
Collaboration: Artists can collaborate, creating unique performances.
Tutorials: Experts can react to and correct misinformation or add valuable insight to an existing video.
Challenges: Propose a challenge and invite others to respond with their take.
Why is TikTok Duets Feature Important?
Understanding and utilizing TikTok Duets can significantly boost your engagement, amplifying your presence on the platform. Take for instance the story of @creativespark, whose consistent use of Duets sky-rocketed their follower count in mere weeks. As the experts in this space, smm.ist is your trusted guide.
Mastering TikTok Duets paves the path to increased visibility and enhanced creativity. Explore further with more resources and blog recommendations from the smm.ist team, your companions on this digital journey.